SailGP coming to Plymouth UK! (17-18 July 2021)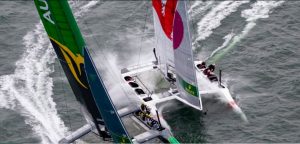 SailGP is coming to Plymouth UK over the weekend of  17/18 July 2021 (of course, that will be subject to the virus situation at the time).   The SailGP events are for the F50 Catamarans that have been developed from the boats that contested the America's Cup during 2017. They are now a tightly controlled one-design class but the design rule is not frozen, rather it is further developed each year by consultation with the racing teams which number eight at the time of writing. These boats have two element rigid wing sails and an 8.8m beam so they are difficult boats to handle on shore – presumably there is a plan for handling the boats on shore at Plymouth but I cannot guess what that plan might be! The F50 racing should be spectacular to watch, the speeds possible are on a par with those achieved with the AC75 foiling monohulls. We hope it will be spectacular rather than downright dangerous – during the recent Bermuda SailGP event the Japanese boat tacked too late to avoid the US boat which was on starboard – no one was injured but the collision and resulting damage took both boats out of the race series.
A handful of AYRS members have now told me that they would like to meet up during the weekend of the Plymouth SailGP, more are welcome.  I have been in contact with Cargreen Yacht Club which is on the Tamar above Saltash and the club Social Secretary has offered to help us set up and cook a waterside barbeque at CYC on the evening of Saturday 17 July.  That club can also offer visitor's moorings for any AYRS members visiting Plymouth by sea – details at CYC website.
As for watching the SailGP racing, there are several options set out at this web page: https://sailgp.com/races/great-britain-sail-grand-prix-tickets/   There are two free of charge options, one for watching from on-shore at Plymouth Hoe and one for watching from your own boat. There are also paid for options which I think are intended to give a slightly better vantage point together with complementary drinks and such like.   Josephine and John Perry  will probably choose one of the free options and although it could be fun to watch from the water I am guessing that watching from the high ground of Plymouth Hoe might actually give the better view of the racing. And if any AYRS members visiting Plymouth over the weekend of SailGP would like to sail together maybe we could arrange a day-sail or even a short cruise in company either before or after the event.  There is extensive fairly sheltered estuary sailing in the vicinity of Plymouth so both yachts and road transportable boats could be included in this.