Click on the event titles to see details about each event
.

Talk by Richard Pemberton – 'What does Net Zero mean to the recreational sailor' – University of Plymouth
This talk will now be shared as hybrid meeting on Zoom:
 – the Zoom link is:
https://us06web.zoom.us/j/2536740617?pwd=VFdMOGxWRDNzK1Z4NkxpTkU1a3ZUZz09%20
Meeting ID: 253 674 0617     Passcode: ayrs (but I dont think you need those if you join through the link above)
This AYRS South West UK meeting will be held in Reynolds building room G1 on the University of Plymouth campus in Devon UK. The campus is in the centre of the city, a short walk from the main railway station – I have circled the building in red on the map below, the railway station is at the top left of the map. I understand that parking within the campus is free after 4pm and there are also several multistory carparks close by in the city centre. We have the room from 5:00 so if you do arrive say half an hour early we can discuss possiblities for future AYRS activities in the south west of the UK.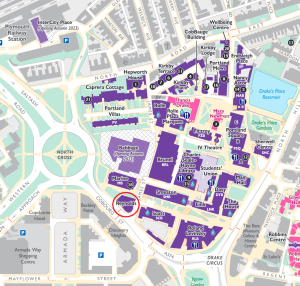 This talk is open to all so please feel free to invite friends or post a notice about it at your local sailing club.
Dr Richard Pemberton writes:  'As with road transport, the UK government has set ambitious targets for the maritime industry to be operating in at net zero carbon dioxide emissions by 2050. Whilst recreational sailors are generally looking to use their motors as little as possible, what are the implications for them of the transition from fossil fuels to alternative technologies? This talk will discuss the current alternative energy sources, and will look at how they may be adopted by recreational sailors. '
Dr. Richard Pemberton started his career in the area of Computational Fluid Dynamics (CFD), working as a designer or technical consultant to sailors and yacht racing teams in many of the major competitions within the sport, such as the America's Cup, Volvo Ocean Race, Vendee Globe race, the Olympics and the World Speed Sailing Record.
Before joining the University of Plymouth, Richard worked as a consultant Naval Architect both in a self-employed capacity and at the University of Southampton's Wolfson Unit for Marine Technology and Industrial Aerodynamics. In these roles, Richard achieved Chartered Engineer status with RINA and has now worked on 5 Innovate UK funded Clean Maritime Demonstrator Competition research projects in the area of Maritime Decarbonisation.