Click on the event titles to see details about each event
We have an active local group of the AYRS in the North West of the UK – Merseyside/Lancashire area. For information about their events email Mike Howard –   nwuklocalgroup@ayrs.org
.

Talk at Little Ship Club in Central London – Note: this is revised date for the event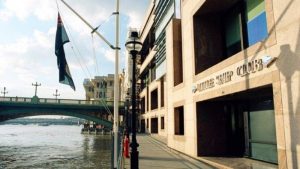 IMPORTANT – DATE FOR THIS EVENT HAS BEEN CHANGED – Due to forced change of plan by the Little Ship Club the date for this event has had to be changed – the new date is 25 April 2023
Kim Fisher is giving a talk titled 'For the Love of Boats' at the Little Ship Club which, as the picture above shows, is right on the River Thames within the City of London.   Kim's talk is about the AYRS and about the sailing and boat building he has done over many years of AYRS membership.    Kim's recent projects have included a 'Rescue Float' for use by beach rescue organisations and an innovative way of moulding boat hulls over stretched latex sheet.  He produces a constant stream of ideas and his craftsmanship rapidly translates those ideas into very well made prototypes.
This talk will be included in a regular program of winter meetings run by the Little Ship Club but will be open to AYRS members and their guests as well as to LSC members. So, if you are in the London area on Tuesday 31 January this is an opportunity to spend the evening in the comfortable clubhouse of a prestigous London yacht club – I believe that if you are coming to this talk you can book a meal at the club and possibly also overnight accommodation – contact the club for further information, office telephone 020 7236 7729