Monthly Zoom Meeting – Kim Fisher will tell us about Parabeam
12 February @ 19:30

-

20:30
For our February monthly Zoom meeting Kim Fisher will tell us about his experiments with using Parabeam and I think also how he is using Parabeam with a hull mould made by draping an elastic membrane over a 'skeleton' framework – an innovative way to quickly make curvy 3D shapes.
Parabeam is a way of making a fairly lightweight fibreglass panel approximately 3mm thick with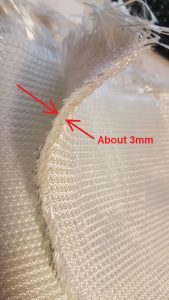 just one layer of reinforcement material.  Kim has kindly sent me a sample, photo at left shows an edge of the reinforcement material.  It is a thick 'spongy' fabric and when you wet it out with resin the outside surfaces get fully impregnated but the central region is mostly air filled, so it automatically forms a kind of sandwich structure with a single wetting out operation. I had better not say more, or I will spoil Kim's talk!
The link to join this meeting is:
https://us06web.zoom.us/j/2536740617?pwd=VFdMOGxWRDNzK1Z4NkxpTkU1a3ZUZz09
The meeting ID is 253 674 0617 and the passcode is ayrs but I dont think you will need that information if you log on through the link above.
This will be our pen-ultimate Zoom meeting for this Spring, after a March meeting we will break off and maybe restart in the Autumn, but we will have to consider that over the summer.  Over the past few months our Zoom meetings have lost the popularity they enjoyed over 2019, maybe the need was only during the first stages of covid-19.   Having said that, arranging a Zoom meeting as just an informal on-line 'bar chat' as opposed to a formal presentation is very easily done, if there is demand for that we can certainly send out a monthly link for as long as even a handful of members choose to log on.   Maybe Saturday is not the best day of the week, do let us know your thoughts.  (email chairman@ayrs.org).