Gathering at Mount Batten near Plymouth
Come by boat or by land, for one or both days.  Show your projects and chat about sailing.  Join other members for a meal in the Mount Batten Centre bar at around 7pm on Saturday evening. (Let Jasper know if you would like to be i ncluded in a table booking).  Make informal arrangements to sail in company or crew with other members on the Sunday.
Contact for this meeting is Jasper Graham-Jones, Mobile 07881085435,  Jasper.graham-jones@plymouth.ac.uk
The venue is Mount Batten Watersports & Activities Centre, 70 Lawrence Rd, Mount Batten, Plymouth PL9 9SJ,   https://www.mount-batten-centre.com/    Telephone 01752 40456,   enquiries@mount-batten-centre.com
Car parking in the Mountbatten Centre is £5.00 per day and can be booked at the centre reception on arrival or anytime before.  There is also a free public car park across the road from the centre.  There is a wide concrete free public slipway at Mount Batten which is suitable for launching all sizes of road trailable boats at almost all tide states – it is only at low water springs that the concrete tails off into a stony seabed at the end of the slipway.  If you need overnight accommodation the Mount Batten Centre does offer some rooms, there is also Hotel Mount Batten nearby and other hotels and B&Bs in the area.
Saturday – Given suitable weather, Jasper plans to sail from Looe, Cornwall, in his Swift 18 sailing boat and arrive at Mountbatten to meet up with other members on the foreshore between the pontoon and the public slipway at about 4pm on Saturday 7th May.  John and Josephine plan to arrive about mid-day with their sailing dinghy.  Jasper plans to either stay overnight on the beach at Mount Batten or to take a berth in the Plymouth Yacht Haven Marina which is a short walk east from the Mount Batten Centre. The marina has a minimum charge of 7 meters and £29 per night.    If there is poor weather Jasper will drive from Looe bringing a small boat, probably a kayak.  If the weather is very poor we will meet in the bar of the Mount Batten Centre at about 5pm rather than outside on the foreshore.
Sunday – Meet for coffee/breakfast for people who stay overnight.  It would be ideal if we could sail in company.  Also a good opportunity to get photos taken at sea.
If you wish to join, or have any questions please contact Jasper, Email is best. It is not essential to contact Jasper in advance but it would be helpful if you can do so since Jasper would like to have some idea of how many people are coming and what kind of boats they may bring.
Saturday 7th May

High Water 10:03     4.24m

Low water 16;09      2.10m

High Water 22:15    4.63m

Sunday 8th May

Low water  04:39      2.15 m

High Water  10:51    4.24m

Low Water 16:57    2.35m

High Water 23:10   4.43m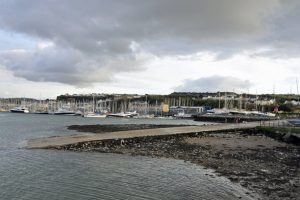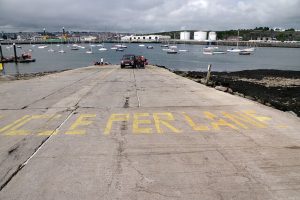 Pictures above show the Mount Batten slipway towards low tide.  It's a 15m wide gently sloping concrete slipway, it was used for launching Sunderland seaplanes.  The beach to the side of the slipway is stony with some larger boulders.  In the first picture you can see the Plymouth Yacht Haven marina in the distance behind the slipway.  The marina is about 400m from the slipway, a few minutes walk east along the sea front.