ZOOM Mtg. – Reuben Thomson tells us about his 'Mini-Skiff'
12 June, 2021 @ 19:30

-

20:30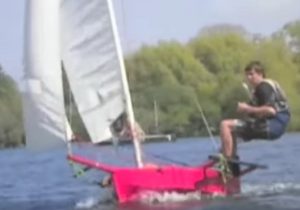 Our next AYRS Zoom meeting will be on Saturday 12 June 2021 at 19:30 BST.  For this meeting Reuben Thompson will tell us about the design, building and sailing of his 'mini-skiff' – picture above. This is a tiny performance sailing dinghy only 7 foot 7 inches in hull length but with trapeze 'racks' and a laser mainsail plus a foresail set on a good length bowsprit.  There is a video clip showing Reuben sailing the mini-skiff at this link:   https://www.youtube.com/watch?v=QMH2X5SUGNk   This video is a bit shaky, but it does show that the mini-skiff sails well.  It rather reminds me of the pictures of over-canvassed Australian sailing boats that Alan Smith showed at our previous meeting, including the '6 Foot' class that is even shorter than the mini-Skiff.

The Zoom link to join this online meeting is:
https://zoom.us/j/2536740617?pwd=VFdMOGxWRDNzK1Z4NkxpTkU1a3ZUZz09
If you need it, the Meeting ID is 253 674 0617
and the passcode is ayrs , but if you use the meeting ID above I think you will come in without needing the password.
Please note that followng our Zoom meeting on 12 June we will break off our monthly Zoom meetings until October – We imagine that many of our members would rather spend the weekends of the peak northern hemisphere sailing season afloat or at their sailing clubs rather than looking at a computer.  So, keeping to the second Saturday of the month, our next Zoom meeting after June will be on Saturday 9 October. This happens to be the first Saturday of Weymouth Speedweek (covid permitting) – see https://www.speedsailing.com – so we may be able to host that Zoom meeting from the Weymouth and Portland National Sailing Centre and possibly get some input from organisers and competitors.  Also, as for previous Weymouth Speedweeks, on the Wednesday of the week, that is 13th October, we plan to hold an AYRS meeting (not an on-line meeting) in Weymouth to which all are welcome.