Zoom Meeting No 4 – The 'Paradox' – a 14 foot cruising boat
9 May, 2020 @ 19:30

-

20:30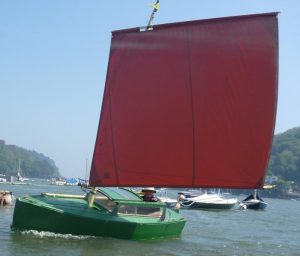 Alastair Law will tell us about building and sailing his 14 foot (4.27m) sailing boat, an example of the Paradox design by Matt Layden. (www.microcruising).
Alastair's boat, 'Little Jim' was the first Paradox to be built in the UK. Alastair has sailed it extensively on the south and south west coasts of the UK and finds it ideal for his purposes.
The Paradox design is:
Seaworthy for estuary and coastal cruising.
Better able to protect its crew from adverse weather than most boats of this size – can be sailed entirely from 'down below'.
Robustly constructed – strengthened underneath to take the ground.
Able to carry a lot of provisions and equipment – Alastair caries an inflatable tender and a folding bicycle on his one.
Comfortable for a solo sailor to spend time on board, including overnight.
Reasonably easy for transport by road trailer.
Faster to windward than many people would imagine that it could be.
But its not a boat for family sailing!
See under 'website' below for the link to join this meeting (actually the same link as for our previous Zoom meetings)  No password required to join the meeting, just click on the link a little before (say a few minutes before)  the meeting start time or if you need the meeting reference number it is the 10 digit number at the end of the link.