Click on the event titles to see details about each event
We have an active local group of the AYRS in the North West of the UK – Merseyside/Lancashire area. For information about their events email Mike Howard –   nwuklocalgroup@ayrs.org
.

RYA – Dinghy and Watersports show
25 February

-

26 February
The AYRS stand this year is stand K12.
Note that if you are an RYA member you can have tickets for both days free – a nice bonus.  Also note that even if you are not an RYA member, because the AYRS is exhibiting at the show, we can offer those who look at the AYRS website a 10% discount off full adult tickets by using the code RYAEX23047 at the on-line ticket checkout – CLICK HERE
The show was hugely popular in 2022, and our stand gained plenty of interest.  This year should be good too – we will be unveiling a new AYRS project from Kim Fisher – I can tell you that there will not be anything like it on any of the other stands!
A few years ago our committee member Mike Howard made a map of the location of all the AYRS members in the UK and that showed that although our members are spread accross the UK, and indeed the world, we do have a concentration in the home counties and down the M3 corridor to the Solent and South coast so Farnborough in Surrey should suit all these members.   The show is just a few minutes from the M3 and I understand that there will also be a shuttle bus service running from Farnborough main station (trains from London Waterloo).   There is ample free parking on the site.   Go to the show website to order your tickets on-line, that will save you queing.  Also note that if you are an RYA member you can have tickets for both days free – a nice bonus.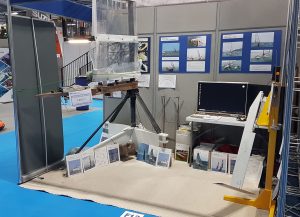 This was our stand last year – to the left you see the base of a soft wingsail – we were working till about 11:00am on the night before the show opened to get assembled and set up – I think the security guards were wondering about us by then!  To the right of your stand you see a hydrofoil that is instrumented with load cells and strain gauges to measure all the forces and moments, that includes the bending moment transferred between the foil and strut when a foil set at a dihedral comes close to the water surface – I am not sure anyone else has measured that, or if they have they may have kept their data to themselves.
We will need help to set up and take down our stand and to staff  it during the show.  If you would like to help contact please contact chairman@ayrs.org.   The cost of our stand does include a few free exhibitors passes, but I think only three of these, we have to pay for extra ones, so it would be good to work out in advance how many we need.